Tagayana Beach Camp
St. Nino / Apurawan - Aborlan
Notice for all of you wonderful travelers!

Tagayana Beach is always open!

If you let us know before you arrive we can provide you with the best service and accommodation!

There is no wifi so it might take a few days before you get a response to any of your questions. Message us a few days in advance!

Easiest way to reach us by van (from San Jose bus terminal) go to Apurawan (PALAWACANA/TAGAYANA)

For more information send us a message or mail to (info@tagayana.com).


Puerto Princesa to Tagayana Beach Camp
St. Nino / Apurawan - Aborlan


motorbike / car
from Puerto Princesa North Road
Turn left onto Puerto Princesa South Road 22 km.
Turn right onto Puerto Princesa South Rd Junction -> Napsan - Apurawan Rd 55 km.
van / bus
head to San Jose bus terminal north side
van / bus to St. Nino / Apurawan depart on north side terminal
costs about 150 php / p.p. extra 50 php per baggage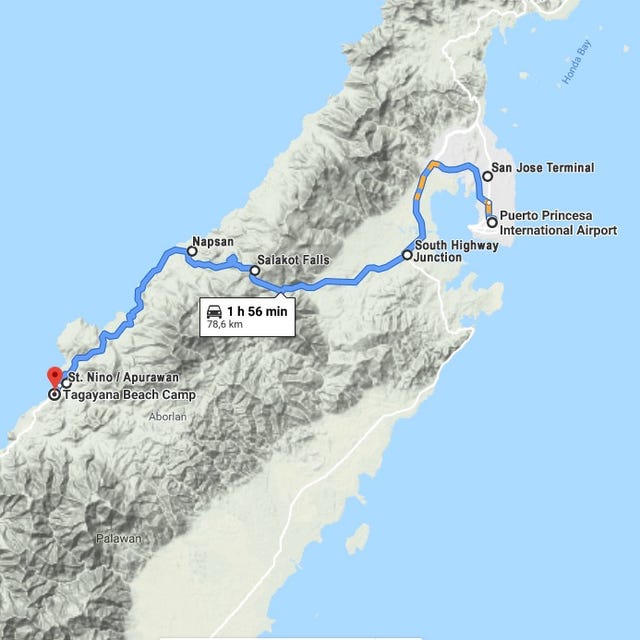 Google Maps content can't be displayed with your current cookie settings. Select "Show Content", to view content and agree to the Google Maps cookie settings. Get more info in the Google Maps Privacy Policy. Opt-out here at any timecookie setting.
Show Content
Adres
Tagayana Beach Camp
St. Nino - Aporawan
Aporawan
Philippines